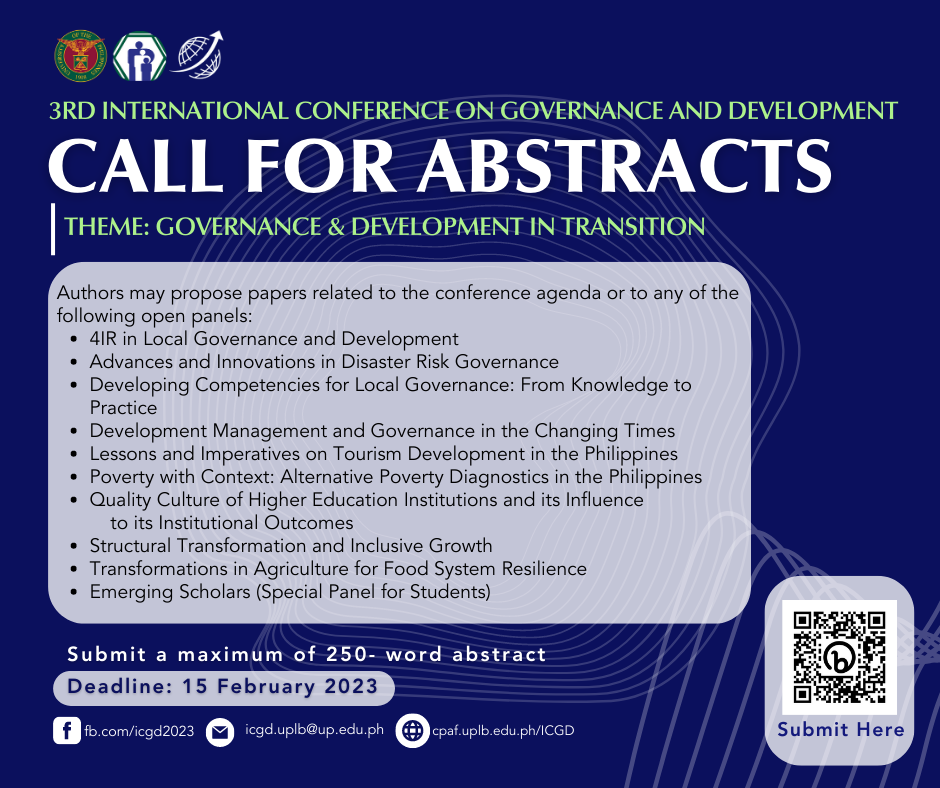 The 𝟑𝐫𝐝 𝐈𝐧𝐭𝐞𝐫𝐧𝐚𝐭𝐢𝐨𝐧𝐚𝐥 𝐂𝐨𝐧𝐟𝐞𝐫𝐞𝐧𝐜𝐞 𝐨𝐧 𝐆𝐨𝐯𝐞𝐫𝐧𝐚𝐧𝐜𝐞 𝐚𝐧𝐝 𝐃𝐞𝐯𝐞𝐥𝐨𝐩𝐦𝐞𝐧𝐭 is inviting academicians, researchers, students, and practitioners to join the conference by submitting abstracts that will fall under its conference agenda or to any of the following open panels:
✅4IR in Local Governance and Development
✅Advances and Innovations in Disaster Risk Governance
✅Developing Competencies for Local Governance: From Knowledge to Practice
✅Development Management and Governance in the Changing Times
✅Lessons and Imperatives on Tourism Development in the Philippines
✅Poverty with Context: Alternative Poverty Diagnostics in the Philippines
✅Quality Culture of Higher Education Institutions and its Influence to its Institutional Outcomes
✅Structural Transformation and Inclusive Growth, and
✅Transformations in Agriculture for Food System Resilience
✅Emerging Scholars (Special Panel for Students)
The deadline of submission is 𝟏𝟓 𝐅𝐞𝐛𝐫𝐮𝐚𝐫𝐲 𝟐𝟎𝟐𝟑. All abstract submissions shall be submitted via https://bit.ly/icgd3submitabstract. You may also scan the QR Code on the poster.
ICGD3 will be held on 19-21 July 2023 in Manila, Philippines. With the theme Governance and Development in Transition, this face-to-face conference aims to initiate agenda-setting conversations and debates that recognize the agencies of institutions and communities to lead governance and development to better pathways.
For more information about the conference agenda, you may visit our website, https://cpaf.uplb.edu.ph/ICGD. You may also send inquiries to: [email protected]
#ICGD3 #governanceanddevelopment #CallForAbstracts #conferences